1. Check your travel documents
Check that your identity papers comply with the regulations (see Travel Documents). In any case, only the State administrative authorities (PAF, consulates) can authorize particular cases.
Check your compliance with HEALTH PROTOCOLS

Fill in the fields of the "Book my flight" module
You can take a ONE-WAY or ONE-WAY RETURN (click on the button).
You also have the possibility of a multi-destination (see MULTI-DESTINATIONS button)
Enter your departure city and your destination city
By clicking on "DATE ​​OF DEPARTURE", you will see a calendar appear on which the flights open for sale will appear in green circles, and in red circles the flights closed for sale.
Click on the date in green that corresponds to your wish. Same with "RETURN DATE"
Click on SEARCH
The part where you will choose your rate now appears on the screen.
First, confirm your departure flight.
The selected flight appears written in white on a red background.
The fare that appears is the minimum fare on the selected flight.
By scrolling the calendar sideways, you can find a date and price that suits you better.
Up to 4 tariff levels may appear (depending on the destination). Please note that each tariff is linked to very specific tariff conditions.
We invite you to carefully read the conditions stipulated on the screen, before choosing your rate by clicking on it.
Promotion Fare: This ticket is non-modifiable and non-refundable; it is lost in case of no show on the flight (no show). Only taxes are refundable.
Semi-flexible fare: You can modify your ticket 24 hours before your flight, or after the flight by paying a penalty of 70€. Only taxes are refundable.
Eco Flex fare: Ticket can be changed free of charge, but non-refundable. Only taxes are refundable
Flexible rate: Ticket can be modified and refunded free of charge
Please note that only the FLEXIBLE rate allows you to change your flight dates free of charge and get reimbursed on request.
Then confirm your RETURN FLIGHT, date and associated price
Now appear on your screen, the details of your trip.
Carefully check the dates and pricing conditions you have selected. They are still modifiable at this stage.
On the right appears a box in which you will find a summary of your trip and the associated prices. The total price appears in green.
On the last line of the screen appears access to the GENERAL CONDITIONS OF SALE (you must check this box), as well as 2 buttons!
Log in and book
Book without an account
We strongly recommend that you "log in and book" and therefore log in with your account or create one if necessary.
This way, you will easily find your reservation and all your past trips later. You can even manage your assets directly there. Your main profile information will also be retained.
The "Book without account" option allows you to proceed with the purchase of your ticket but will not allow you all the facilities linked to the personal account on EWA. You will have partial access to your reservation with RESERVATION MANAGEMENT
After clicking on one of the two options, you will now enter your profile information (partially if you book with your account).
All data marked with an * must be completed as precisely as possible.
Pay close attention to the wording of your NAME and FIRST NAME, as well as your email.
By ticking the box on the authorization to send commercial information by EWA Air, you will benefit from our offers and all our commercial information on our network.
At this stage, you can still check the pricing conditions and return to your reservation.
Otherwise click on Book
a. Destinations St Denis, Pierrefonds or Mauritius

At this stage, the ticket you have chosen allows you to carry only 1 cabin bag of 10 kg.
You now have access to the purchase of options for your Checked baggage, animal in the cabin, your animal.
By checking your options, you will see that the price listed on the right of the screen increases in proportion to the options chosen.
After validating your baggage options, you will be able to choose your seat.
Front row seats or those with more legroom are chargeable. Other seats on the plane are free.
b. Destinations on Madagascar, Comoros or Tanzania
Your ticket entitles you to 1 hand luggage of 6 kg and 1 hold luggage of 20 kg
You are now on the payment page.
At this stage you must check that your personal information, your departure and arrival dates and the rates you have chosen are correct.
Make a note of the reservation code, type 00Bx1a, which appears on the first lines of your screen. It will allow you to find your booking file even if it remains optional (via BOOKING MANAGEMENT or my PERSONAL SPACE).
At this stage, your ticket is still OPTIONAL (orange corner on your ticket)
You can now proceed to pay for your ticket. To do this, click on Ogone payment method. You access the payment module.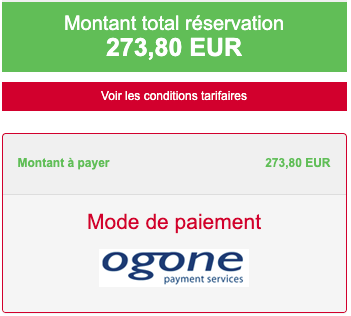 Please note that your reservation code appears on the first line.
You must now fill in your credit card information and follow the payment process.
After confirmation of the payment process, you will receive your travel memo on your email, which constitutes your ticket.
On your travel memo, appears your reservation code at the top right, as well as all the information of dates and destinations.
The Options you have chosen appear on this document.
If at this stage, you notice a malfunction, to find your ticket, go with your reservation code (PNR)
on your PERSONAL SPACE
You will find your ticket and see if it is issued or optional/orange).
If it is still in Option, you can start the payment process again
If it is Emitted, you can print it, modify it...
Have a nice trip