EWA Air, the first Airline Company of Mayotte, was born from the synergy of 3 partners sharing a common ambition: to contribute to the opening up of the territory and its influence in the Mozambique Channel.
The Air Austral Group, the Chamber of Commerce and Industry of Mayotte and the Ylang Invest Company joined together to respond, thanks to EWA Air, the high expectations of the population regarding travel. Being a subsidiary of Air Austral Group, EWA Air offers its passengers a guarantee in terms of quality of services as well as in term of safety, a top priority for the company.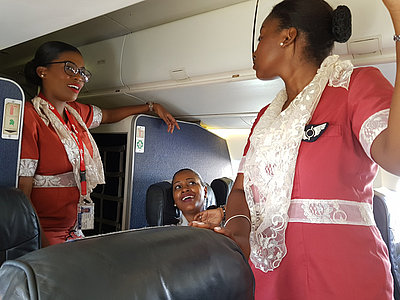 With its evocative name, a sign of acquiescence and support, the company named "EWA", operates with two ATR 72-600 and offers 7 direct routes from Dzaoudzi to Madagascar, the Comoros and Tanzania.
In addition, since December 2021, EWA Air operates a Boeing 737-800 to Reunion Island, with services to St Denis-Gillot and St Pierre- Pierrefonds: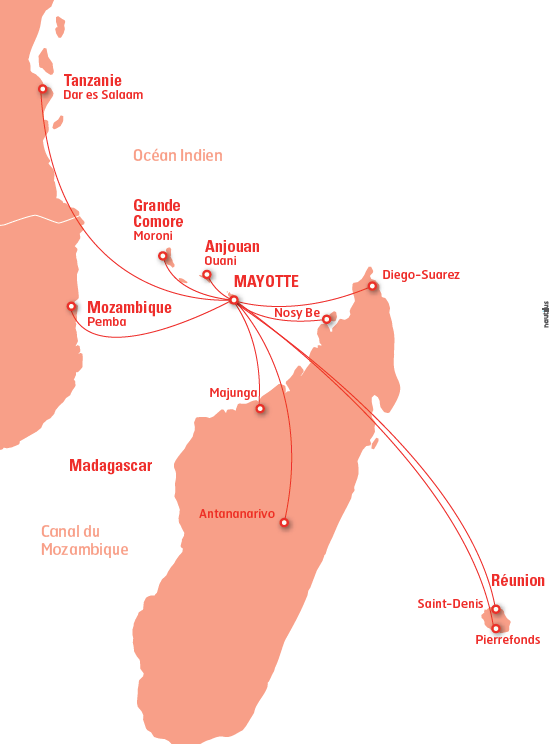 Word from the president:
"The year 2022 is shaping up to be an important step in the life of Ewa Air. The first company based in Mayotte, continues its development in order to strengthen its strategic position in the Mozambique Channel and the Indian Ocean, and to contribute to the improvement of the connectivity of Mayotte, its native land, its heartland.

Since December 21, 2021, Ewa air has acquired a new Boeing 737-800 with a colorful livery and symbolic motifs of the perfume island, and offers two new destinations from Mayotte: Saint-Denis de La Réunion and Pierrefonds, which it serves with a minimum of two frequencies per week. With the opening of these new routes, Ewa Air brings a complementary and innovative offer, which I hope will suit you.

With this dynamic and a network composed of 10 destinations (Majunga, NosyBe, Diego and Tananarive in Madagascar, Anjouan and Moroni in the Comoros, Dar es Salaam in Tanzania, Pemba in Mozambique, Saint Denis and Pierrefonds in Reunion Island), Ewa Air must now continue its development. Other projects of services in the Indian Ocean are under consideration. We hope to be able to share them with each of you. In 8 years, we have, together, built a solid, resilient and innovative company. We owe this development to you, to your loyalty and trust."
Marie-Joseph MALE, Chairman and CEO of EWA AIR